Back to Solutions Center
Solar Photovoltaics generate electricity using energy from the sun. The three most common solar installations for a campus environment are: ground-mount, roof-top and carport. Additional solar technologies are continuing to emerge (e.g. thin-film, roof-integrated, building facade, window glazings, etc.) Each installation type has a unique combination of technical considerations and environmental and economic benefits. Recent downward price trends for solar technologies has made solar photovoltaics cost competitive with other electricity generation sources.
Benefits
Visible commitment to sustainability

Can provide economic benefits by reducing peak electric demand charges

Solar panels have a lifespan of 25 years with very low operating expense
Challenges
Need a significant surface area to cover a meaningful portion of energy demand

Requires an up-front capital investment or a long-term contract with a third-party developer

Optimal economic performance is achieved through tax incentives which require a tax-equity partner, since universities are typically tax-exempt

Certain types of panels contain toxic chemicals and require special disposal techniques at end-of-life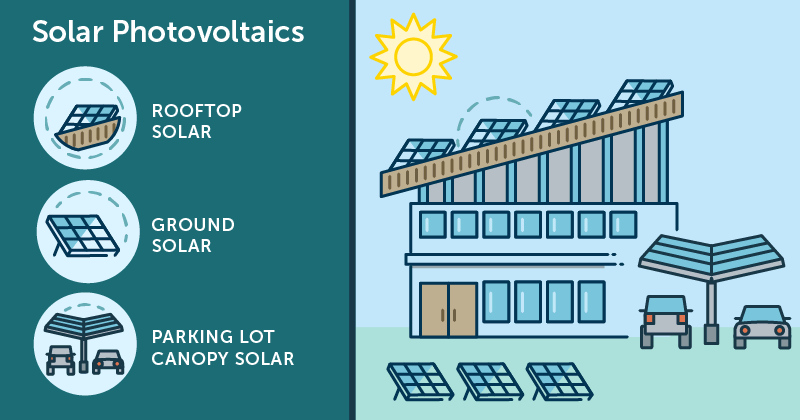 Lafayette's Onsite Solar Power Purchase Agreement
Lafayette College constructed a rooftop solar array on the Kirby Sports Center which provides 540 megawatt-hours (MWh) of renewable energy annually. The electricity will avoid 9,625 MTCO2 over its 25-year lifetime.
Michigan State UniversitySolar Carport Power Purchase Agreement
Michigan State University constructed a solar carport that will generate 10.5 MW electricity, achieve energy cost savings, and protect parked cars from heat, rain, and snow. They financed this project through a 25-year Power Purchase Agreement. MSU is projected to save approximately $10 million in electricity cost savings over the project lifetime.
Solar Photovoltaics Providers