Back to Solutions Center
Solar Photovoltaics
Category: Energy Supply, On-site Renewable Energy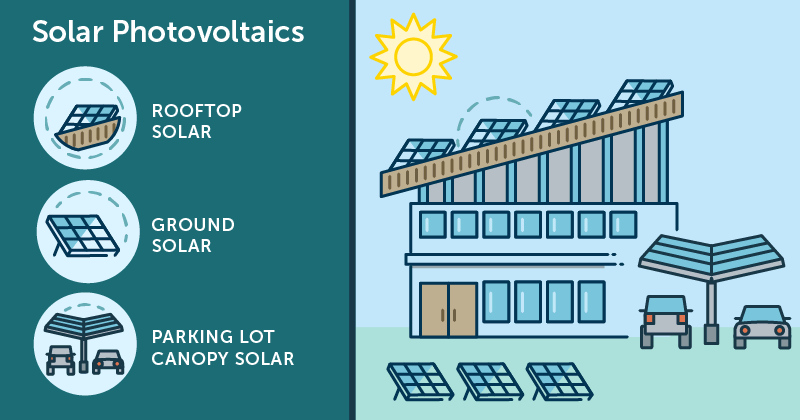 Summary
Solar Photovoltaics generate electricity using energy from the sun. The three most common solar installations for a campus environment are: ground-mount, roof-top and carport. Additional solar technologies are continuing to emerge (e.g. thin-film, roof-integrated, building facade, window glazings, etc.) Each installation type has a unique combination of technical considerations and environmental and economic benefits. Recent downward price trends for solar technologies has made solar photovoltaics cost competitive with other electricity generation sources.
Benefits
Visible commitment to sustainability

Can provide economic benefits by reducing peak electric demand charges.

Solar panels have a lifespan of 25 years with very low operating expense.
Challenges
Need a significant surface area to cover a meaningful portion of energy demand.

Requires an up-front capital investment or a long-term contract with a third-party developer.

Optimal economic performance is achieved through tax incentives which require a tax-equity partner, since universities are typically tax-exempt.

Certain types of panels contain toxic chemicals and require special disposal techniques at end-of-life
Impacts
Greenhouse Gas Impact

Low

Economic Impact

Neutral

Feasibility

Some Challenges

Timeline

1-2 years

Maintenance

Low / None

Publicity

That's pretty cool.
Greenhouse Gas Impact
The scale of on-site solar is often too small to make significant emission reductions.
Economic Impact
Varies due to quality of solar resource, cost of grid-energy and amount of solar installed.
Feasibility
Solar is now a mature technology with a robust ecosystem of technologies and developers.
Timeline
Site permitting, system design and financing are often time-consuming.
Maintenance
Once installed, PV projects require very little maintenance.