Back to Solutions Center
The advent of digitalization and the integration of new technologies into campus environments have the potential to revolutionize the way educational institutions address the critical issue of greenhouse gas emission reduction. Collectively known as "smart infrastructure," these innovations stand at the intersection of sustainability, operational efficiency, and economic viability.
New technologies such as self-learning buildings, remote analytics, and plug-to-grid integration are fundamentally changing life on campus for all stakeholders. They are also accelerating the ability to deliver cleaner air, carbon-free energy, and sustainable, on-demand mobility.
Colleges and universities are using IoT solutions and digitalization to automate operations, improve HVAC, enhance comfort, support fire protection and security, and reduce greenhouse gas emissions. Smart infrastructure technologies can also boost reputation, attract students, reduce costs, and better prepare graduates for a digital tomorrow via a digitally connected, efficient, and sustainable campus.
Benefits of Smart Infrastructure
Makes the campus experience safer, healthier, more secure, more comfortable, and better connected
Creates environmental and economic resilience
Can achieve operational excellence through energy efficiency, ease of operation, and low lifecycle cost
Can result in workforce development programs and collaboration with service providers
Challenges
Deferred maintenance and budget constraints
Energy security and reliability
Engagement of students in sustainability initiatives
Balancing new energy infrastructure while dealing with aging infrastructure
Compliance to industry standards or legislation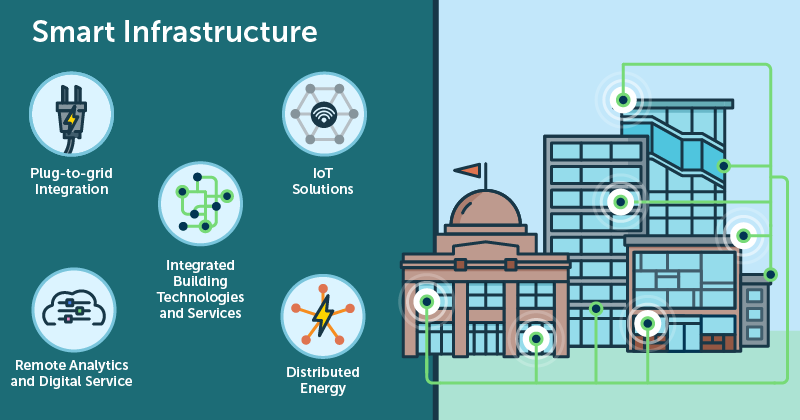 Impacts
GHG Impact

Moderate

Economic Impact

Net Savings

Feasibility

Very Achievable

Timeline

1-2 years

Maintenance

Moderate

Publicity

That's cool
Siemens and Algonquin College of Applied Arts and Technology
Algonquin College of Applied Arts and Technology, the largest college in Eastern Ontario, is on an ambitious journey to becoming a sustainable institution of the future. Siemens is helping them towards this goal by implementing a variety of cutting-edge technologies, including on-site cogeneration for energy independence, solar panels, energy storage, and electric vehicle charging, all managed by a sophisticated microgrid. Algonquin is serving as a "living lab" of leading-edge sustainability technologies.
Siemens Princeton Microgrid Campus
Siemens developed a "Living Lab" microgrid campus to conduct groundbreaking research in the realm of microgrids, and how various energy-related generation, storage and building management products behave and work together in a dynamic real-life microgrid environment.
Princeton's innovative microgrid integrates advanced technologies such as grid software, battery storage, PV solar, EV charging, building automation, and electrical switchgear, resulting in carbon emission and operating cost reductions while increasing resiliency and discovering new revenue sources.
Smart Infrastructure Providers