Back to Solutions Center
Renewable Energy Credits (RECs)
Category: Energy Supply, Renewable Energy Credits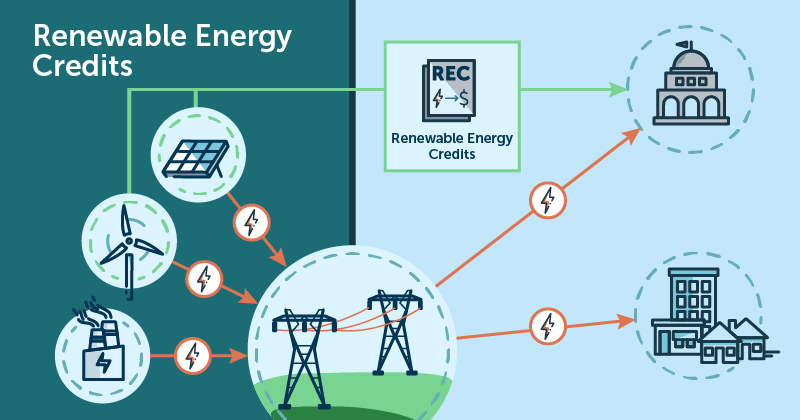 Summary
Renewable energy credits are non-tangible commodities that represent the property rights to the environmental and social benefits of renewable energy. One REC is equal to 1 megawatt hour  (MWh) of renewable energy produced. RECs are created at the time of electricity generation by renewable energy sources such solar, wind, geothermal, etc. RECs are verified, managed and traded by third-party organizations.
Benefits
One of the easiest and most flexible ways to mitigate purchased electricity related emissions.

Supports development of renewable energy resources by providing an additional revenue stream.

Minimal upfront cost with no long-term contract required.

Universities could not only purchase clean energy, but sell their own REC's if existing wind or solar operations overproduce
Challenges
By definition, purchasing RECs will increase electricity costs.

RECs vary greatly in quality, traceability and price.

Not all stakeholders may view this as a genuine carbon-mitigation strategy.

Can vary greatly state-to-state
Impacts
Greenhouse Gas Impact

Enormous

Economic Impact

Small Net Cost

Feasibility

Doable

Timeline

< 1 year

Maintenance

Low / None

Publicity

Hmm... Okay.
Greenhouse Gas Impact
Can be significant if large amounts are purchased
Economic Impact
By definition purchasing RECs is cost-additive.
Feasibility
Many institutions are already purchasing RECs.
Timeline
RECs are available for purchase. Internal approval may take time.
Maintenance
Other than annual monitoring and purchasing, there is no maintenance required.
Publicity
One of the most accessible solutions but stakeholders may remain skeptical.