Back to Solutions Center
HVAC
Category: Energy Demand, Energy Efficiency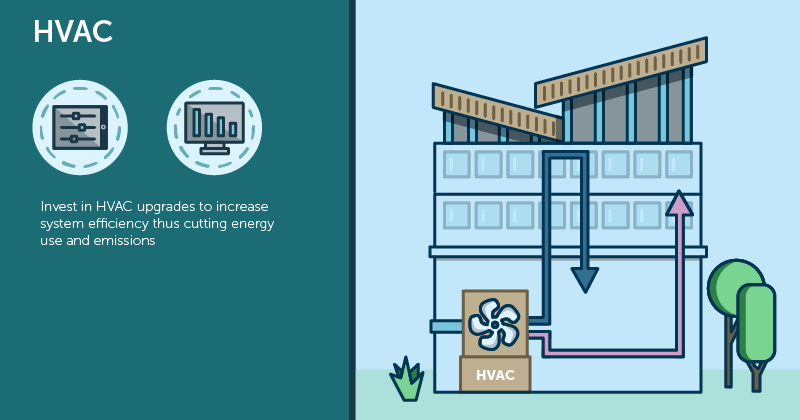 Summary
HVAC (Heating, Ventilation and Air Conditioner) systems are energy intensive and make up nearly a third of a building's energy demands. Investing in HVAC upgrades increases the system's overall efficiency thus cutting energy use and emissions while generating savings from reduced operational maintenance and energy bills. Upgrades can be capital intensive, but the resulting energy savings can provide high financial returns with little risk.
Benefits
Straightforward solution that can be done in house. 

Saves money and cuts emissions

Improved temperature control and productivity 

Reduces operational maintenance
Challenges
Large initial capital

Project study takes time away from facility workers

Not a very sexy solution
Impacts
Greenhouse Gas Impact

Large

Economic Impact

Net Savings

Feasibility

Some Challenges

Timeline

1-2 years

Maintenance

Moderate

Publicity

Yawn
Greenhouse Gas Impact
Upgrading multiple buildings at one time can lead to substantial carbon mitigation due to the large energy demand that a building's HVAC system requires. 
Economic Impact
Varies due to campus climate, cost of electricity, age of HVAC
Feasibility
Easy sell to stakeholders due to the reduction on energy bills. 
Timeline
 An initial study of baseline energy consumption and quality of HVAC system can take time.
Maintenance
HVAC upgrades decrease the amount of maintenance that was required for older systems. 
Publicity
Nearly invisible. Building users may comment on improved temp consistency.