Back to Solutions Center
A carbon offset is a tradable instrument that represents the reduction or removal of one metric ton of carbon dioxide equivalent. Carbon offsets fund projects that reduce greenhouse gasses, ranging from reforestation to renewable energy investments. Offsets can be bought and sold to transfer climate benefit between entities. Carbon offsets are different from RECs.
Benefits
Provides an attainable, short-term solution to reach carbon neutrality while more costly and time-intensive projects are underway

When done correctly, offsets can fund sustainable projects worldwide and provide a framework for incentivizing better resource management

Thoughtful participation by higher education institutions can stimulate improvements and alternatives to the voluntary carbon market
Challenges
Offset projects and their methodologies can be complicated, resulting in lack of understanding about actual project impact and additionality

Some offset mechanisms face criticism around credibility, justice, and greenwashing

If projects are far from campus, there may not be a strong connection to the institution or trust that impact is on par with intentions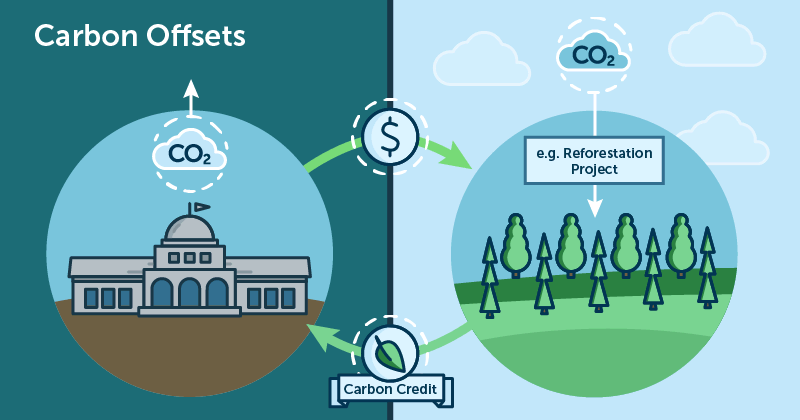 American University Offsets Study
American University purchases verified carbon offsets as a third-tier strategy in their sustainability plan, emphasizing on-campus carbon reductions and changes to indirect emissions first. The University selects a portfolio of carbon credits that align with different sources of emissions. AU purchased offsets from a clean cookstoves project in Kenya to offset their study abroad travel emissions. AU also looks for projects that have co-benefits to the community where the project is located or where information from the projects can be used in classrooms. The cookstove project was selected because it occurs in the Kenyan communities where the University already has relationships, and the project fulfills community and economic co-benefits over and above the offsets it provides. This strategy and these projects are evaluated on an ongoing basis to ensure the impact is in line with the goals.
Second Nature Carbon Offset Resources
Second Nature provides diverse resources to campuses with respect to carbon offsets, including guidance on overall strategy, technical assistance in developing and verifying offset projects, and facilitation of student and faculty engagement in developing peer-reviewed offsets. 
Carbon Offsets Providers