Back to Solutions Center
Carbon Offsets
Category: Carbon Offsets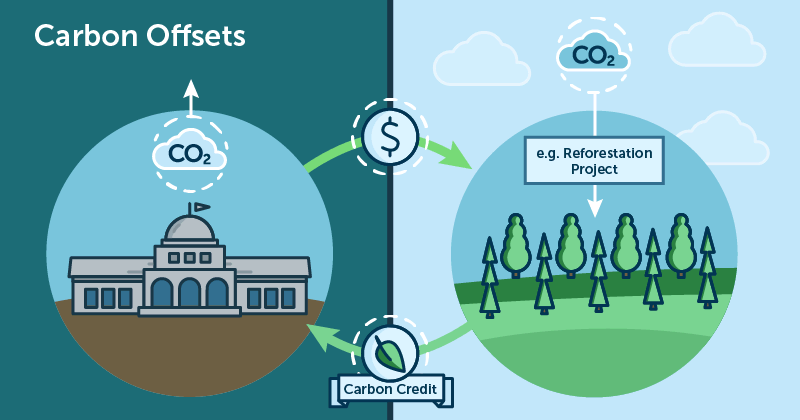 Summary
Carbon offsets are a voluntary form of trade where one entity can buy a reduction of carbon dioxide emissions from a third party for money. Carbon offsets fund projects that reduce greenhouse gasses in a series of short term and long term. These projects range from reforestation to renewable energy investments. Carbon offsets are measured in terms of metric tons of carbon dioxide equivalents and are different from RECs
Benefits
Easy short term solution to reach carbon neutrality.

When done correctly, offsets can fund sustainable projects worldwide.
Challenges
Offsets are hard to manage and measure and money may be lost to the middleman.

Additionality is hard to quantify.
Impacts
Greenhouse Gas Impact

Large

Economic Impact

Small Net Cost

Feasibility

Doable

Timeline

< 1 year

Maintenance

Low / None

Publicity

Hmm... Okay.
Greenhouse Gas Impact
On paper, offsets can mitigate a lot of CO2.  
Economic Impact
This is a purchase with no return on investment.
Feasibility
Easiest way to  remove responsibility away from the campus to a third party.  
Timeline
Offsets can be bought at any time. 
Maintenance
 Once paid for, it's out of sight and out of mind.
Publicity
Campus users may not be well informed and many times offset programs can literally not exist.
Contact Experts
Ruby Woodside

Senior Manager, Climate Programs

Second Nature

Contact