Publications
In coordination with national experts, Second Nature has developed publications and resources to help campuses move toward carbon neutrality and implement the Presidents' Climate Leadership Commitments.
Some of the publications listed below are older; however, they remain relevant to college and university leaders and to practitioners of sustainability as institutions work towards a more carbon-free situation. 
2019 UC3 Impact Report
The 2019 Impact Report for the University Climate Change Coalition (UC3) is now available.
View Report
Higher Education's Role in Advancing Carbon Pricing
The University Climate Change Coalition's first policy topic of interest as indicated by the Ohio State University President Drake and supported by his colleagues is carbon pricing. UC3 convened subject matter experts from across North America to discuss Higher Education's Role in Advancing Carbon Pricing. This preliminary brief includes a menu of options for college and university leaders who want to engage on this issue internally on their campuses or externally with cross-sector partners. A supplementary white paper that will dive deeper into these opportunities and highlight case studies will be published later in 2019.
Download the Brief
Renewable Energy Resources (Exclusive Benefit for Signatories)
Completed Resilience Assessments
Completing an initial Campus-Community Resilience Assessment is the second step in implementing the Climate and Resilience Commitments. This document compiles a list of schools that have completed their Campus-Community Resilience Assessments. The outcomes from these assessments may be helpful for schools beginning the Resilience Assessment process for their own campuses. The reports are also publicly available in the Reporting Platform. Download.
Download
How to Report on Resilience Goals in a Climate Action Plan
Second Nature recommends a Climate Action Plan (CAP) including both carbon neutrality and climate resilience goals. An integrated CAP will help campuses think comprehensively about addressing climate change, and may highlight synergies between mitigation and adaptation strategies. This guidance document outlines how to set measurable resilience goals and targets, and how to complete the resilience portion of the CAP report in the Reporting Platform (Step 3 of the Climate and Resilience Commitments). Download.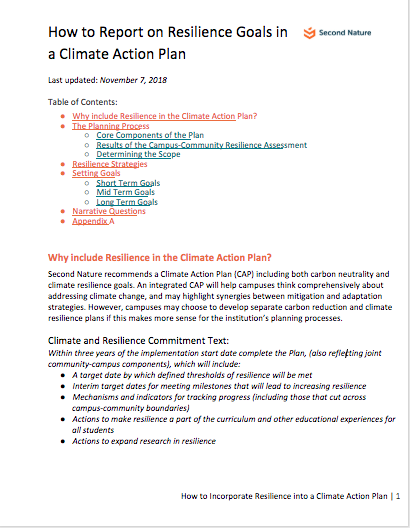 Download