UW sustainability team releases annual update to five-year sustainability action plan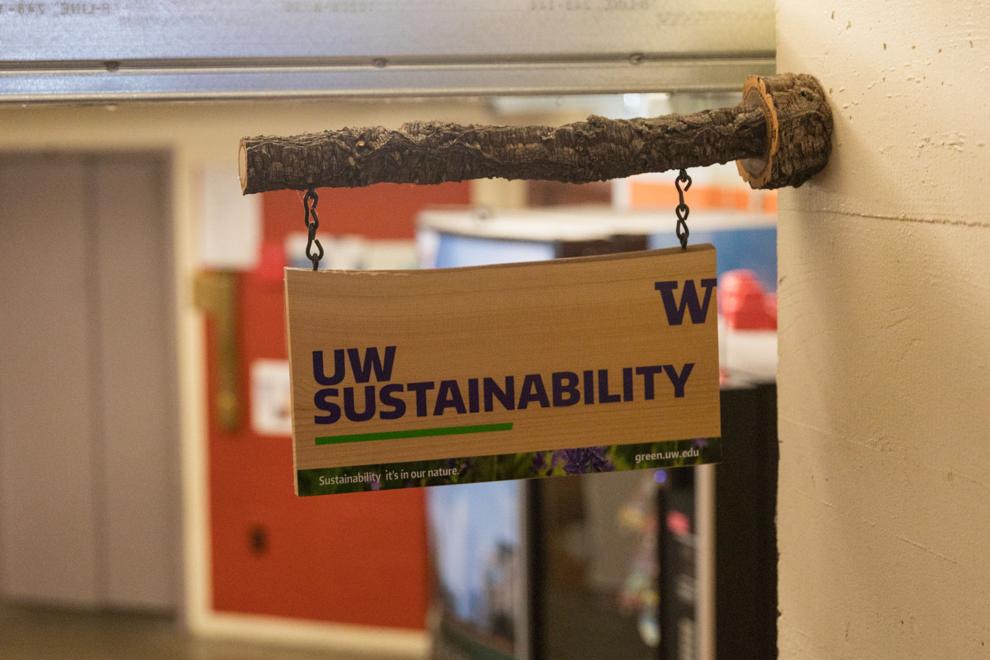 Last year, on the 50th anniversary of Earth Day, UW Sustainability released a five-year plan that set 10 annually-reviewed goals to increase the university's environmental sustainability.
Among other goals, the plan aims to double sustainability engagement by 2024 and sustainability-oriented research projects by 2025, lower single-occupancy commutes to campus to 12% or less by 2028, and reduce greenhouse gas emissions by 45% by 2030.
"COVID-19 threw us a huge curveball, a lot of things had to change," Calina Bathke, program assistant for the sustainability action plan, said. "There were a number of targets that struggled a little bit just by not being on campus… some had a lot of progress, some did just enough." Parts of the evaluation process were thrown off by COVID-19, as it was unclear if target goals were reached due to the pandemic, rather than the UW's sustainability efforts.
"COVID-19 has had an impact obviously in the reduction of greenhouse gas emissions, so that was non-applicable in how we reached those targets," UW Sustainability director Claudia Frere-Anderson said.
Targets for food and waste reduction were also exceeded, along with greenhouse gas emissions reduction.
"COVID-19 changed a lot of our perspectives: the way we travelled, the way we work, and we tried to put all of those considerations into our 2022 plan," Bathke said. "So things have changed slightly, but still have the same impact and initiative that we had in the past edition of our action plan."
Updates for the coming year center around equity and inclusion. UW Sustainability is currently recruiting for a diversity, equity, and inclusion coordinator, whose role will involve engaging underrepresented groups on campus.
"Equity is not a check the box off piece," Frere-Anderson said. "It's a development of relationships, understanding input, widening inclusion, [and] it's something that is going to be an ongoing aspect of the plan."
The sustainability team has also coordinated events, including a series of quarterly engagement events and sustainability stories based on equity and inclusion.
"With the expectation that we will be back in person, we are looking to expand beyond just the environmental realm, but to the other social justice, environmental justice, climate justice aspects," Cristophe Strouse, sustainability action plan project coordinator, said.
The team is also hoping to broaden involvement and accessibility in the coming year through student and staff feedback.
"A really key part of accessibility is that this is not just for the tree huggers, it's not just about CO2, it's not just about do you know how many metric tons [are] used when you're taking a flight," Frere-Anderson said. "It's just about making it as understandable and relevant to how we go about learning and doing our work on campus."
Doubling student, staff, and faculty sustainability engagement by 2024 is one of the targets of the plan, and relates to the goal of making sustainability more widely accessible.
Bathke encouraged UW students to take small steps towards individual sustainability, such as "taking a couple extra seconds out of your day to find the nearest recycling or compost bin."
Not only can reflecting on individual relationships with sustainability be a way to get involved, but looking at the relationship the organizations around us have with sustainability can make a larger impact.
"It's important not to lose track of the fact that it's the organizations and the institutions and the corporations that are the ones that need to make the big changes," Strouse said. "I think anyone could look around them and say, 'Why isn't my department or organization doing better?'"
One of the prompters of the sustainability action plan was to go even further from previous climate actions the UW had already taken. One of these actions was joining the American College & Universities Presidents' Climate Commitment in 2017, a commitment led by the United Nations, which over 600 universities are signed on to.
UW Sustainability has tried to set an example framework of how to solve this issue, and that framework can be seen through the sustainability plan.
"[Universities] have a responsibility to the communities that we are nested in," Strouse said. "There's the sort of localized physical aspect of where the university lives, but also the importance of the educational mission, and how it changed the lives of students who are going to be future leaders, so it's important for students like us to learn about sustainability."
Reach reporter Mary Murphy at [email protected]. Twitter: @marymurphy301
Source: The Daily