UVa, W&M partner to reach 2030 carbon neutrality goal; VT updating 2009 plan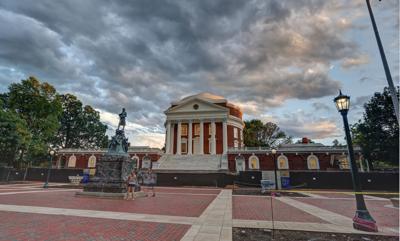 While the University of Virginia and the College of William and Mary have announced goals to become carbon neutral by 2030, Virginia Tech is updating a 10-year climate action commitment.
The state schools in Charlottesville and Williamsburg will share information and collaborate on initiatives aimed at achieving zero net greenhouse emissions, according to a joint news release. The schools will collaborate on outreach and engagement opportunities internally and with their surrounding localities, as well as support other higher education institutions.
Virginia Tech, for one, has been working toward a Climate Action Commitment since 2009. Tech administrators met with students after a climate strike held at the university in September. Provost Cyril Clarke has said that he and Virginia Tech President Tim Sands support the students and want to fight climate change.
Nearby Radford University, meanwhile, has pledged to become carbon neutral by 2040.
The UVa and W&M commitments follow an executive order issued earlier this year by Gov. Ralph Northam that seeks for Virginia to produce 100% of its energy from carbon-free sources by 2050.
A plan under consideration by UVa's board of visitors builds on previously set sustainability and greenhouse gas emissions goals, according to the release.
In 2011, the board of visitors endorsed a goal for UVa to reduce greenhouse gas emissions 25% below 2009 levels by 2025. That goal will be reached this year, six years ahead of schedule, according to the release.
"UVa will seek to catalyze change to advance these new, ambitious sustainability goals in ways that create replicable and collaborative models to build bridges with our community and beyond," Andrea Trimble, director of UVa's Office of Sustainability, said in the release.
Trimble cited examples of challenges to be evaluated, including moving away from fossil fuels; weighing new construction and population growth; and collecting data and identifying strategies to reduce emissions from commuting.
In Blacksburg, Virginia Tech is in the midst of updating its Climate Action Commitment.
One goal in that plan, which was first adopted in 2009 and reaffirmed in 2013, is to reduce carbon dioxide emissions by 80% from 1990 levels by 2050.
"We are in the process of getting together our campus leaders … to discuss that very issue," Tech spokesman Mark Owczarski said Monday after the announcement from UVa and W&M.
Sands put out a statement in early November saying he would assemble a group of faculty, staff and students to update the school's climate plan. That move came after Sands and other administrators met with a group of students who held a climate strike at the university in September.
Among several demands, that group of students has asked that Tech's electric supply be generated completely by renewable sources by 2030 and its steam plant powered likewise by 2040.
Sands is asking the climate committee to come up with recommendations this academic year. He aims for that work to be put before Virginia Tech's board of visitors by fall 2020.
Just over half of the university's greenhouse gas emissions come from electricity it purchases, according to a fiscal year 2018 graph in Tech's latest sustainability report. The report shows a decrease in emissions between 2017 and 2018, largely due to the use of natural gas replacing coal and oil.
Radford University has pledged to reach carbon neutrality by 2040, after signing on to the American Colleges & University Presidents' Climate Commitment in 2009. It has a goal to reduce emissions by 30% by next year and by 60% by 2030.
Radford President Brian Hemphill said in a statement Monday that the university is "committed to pursuing net carbon neutrality by 2040," which he noted was 10 years before the deadline goal set by Northam.
Radford University's net carbon emissions have increased slightly between 2010 and 2018, according to Second Nature, a nonprofit that advocates and tracks climate action at higher education institutions.
A 2017 sustainability report from the university says its fiscal year 2017 emissions are less than 2010 projections under a "business as usual" scenario. Emissions reached a record high in 2017, according to the report, the most recent readily available.
"The primary driver of this increase in emissions was the increase in purchased electricity," the report says.
The (Charlottesville) Daily Progress contributed to this report.
Source: The Roanoke Times