Purdue makes slow start toward carbon neutrality
Purdue makes slow start toward carbon neutrality
Ball State outstrips Purdue; IU has edge in long-term goal
BY LUCAS BLEYLE Staff Reporter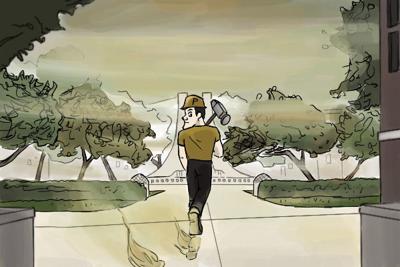 Ball State University says it's on track to achieve carbon neutrality by 2030. Indiana University plans to reduce emissions by 80% by 2050.
But absent from the Master Sustainability Plan released by Purdue last week is any direct commitment from the University to pursue carbon neutrality.
The Sustainability Master Plan commits Purdue to cutting Scope 1 and 2 emissions in half from its 2011 levels by fiscal year 2025. The University aims to reduce greenhouse-gas emissions from the Wade Utility Plant and the electricity the campus draws from the grid by 50%.
To be carbon neutral, a university must have a net-zero carbon footprint either by offsetting its institutional carbon emissions or eliminating them all together. In recent years, many schools have pledged to meet this goal.
The Intergovernmental Panel on Climate Change calculates that global greenhouse gas emissions must fall by 45% from 2010 levels by 2030. Additionally, worldwide carbon neutrality must be achieved by 2050 to keep global temperature below 1.5 Celsius. Beyond this degree of warming, the effects of climate change will become increasingly disastrous.
Larry Nies, a professor of civil and environmental and ecological engineering, echoed this conviction last week.
"I just know it's clear that as a society we need to start moving toward carbon neutrality," Nies said. "We need to reduce our carbon emissions. As an organization, an organization I've dedicated my career to, I would hope that we would come up with a plan as well."
"The disappointing fact is that Purdue is one of the three Big Ten schools who has not even gotten the ball rolling on a carbon neutrality goal," said Mason Merkel, a sophomore in the College of Engineering and a member of the Purdue Student Sustainability Council.
Merkel said while the administration is slow to act, student groups have begun work on carbon neutrality through legislation passed by Purdue Student Government, and almost 1,400 students have signed a petition on Change.org urging the University to pledge to be carbon neutral by 2030.
Michael Gulich, director of campus planning and sustainability, said the sustainability master plan was meant to look at shorter term, realistic goals. Addressing carbon neutrality was simply outside the scope of the current plan.
"It's a really large undertaking," Gulich said. "A big question with that is what would that take and what would that cost? Is the economics there? And so we haven't dug into that."
Gulich cited the myriad challenges for the University, including Purdue's status as a "steam campus," meaning it uses centrally heated steam to heat its buildings. Ball State overcame this challenge by pursuing geothermal energy.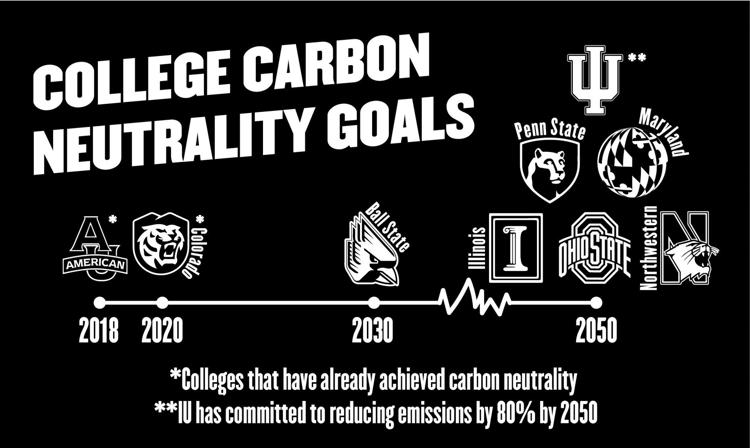 He said while the plan does not address carbon neutrality, it features a carbon emissions reduction goal that is steering Purdue in that direction. In 2025, when the plan is reassessed, there will be opportunities to pursue more aggressive goals.
"That's definitely something that should be on the horizon for us to develop," Gulich said.
Nies said that rather than place the impetus on the campus planning and sustainability office, it should fall on the administration.
"It starts with a directive from leadership to ask for a plan from Physical Facilities on how we can arrive at a carbon neutral destination," Nies said. "Asking for a plan is not a commitment, even to doing it. But the first step is determining what are the actual technical steps necessary to achieving that objective."
Nies said he has always recognized Wade Utility Plant, which heats and helps power the campus, as a leader in Indiana for its high efficiency. But he wishes Purdue would also excel on the climate-change front.
"They've been leaders in that area, and it's kind of a secret," Nies said. "But now we're thinking about the future and it'd be nice if we could be a leader (on carbon neutrality) too."
Where does Purdue stand?
Purdue released as part of its mandatory reporting to the EPA that in 2018 the Wade Utility Plant alone emitted nearly 280,000 metric tons of carbon dioxide equivalent.
Carbon dioxide equivalent is a metric used to compare different greenhouse gases using a single unit. Methane, nitrous oxide and other greenhouse gases have different atmosphere-warming potential, so they are converted into the equivalent amount of carbon dioxide needed to produce that same warming effect.
This figure does not include emissions from electricity purchased off the grid, student and faculty transportation, or carbon embedded in products used by the University.
In fiscal year 2019, Purdue used roughly 310 million kilowatt hours worth of electricity, according to documents provided by the University. Only the 134 million kWh generated by the Wade plant were included in the greenhouse gas emissions Purdue reported to the EPA.
Purdue currently receives Certificates of Avoided Greenhouse Gas Emissions from the EPA, which are rewarded based on greenhouse gases saved through the use of a combined heat-and-power plant.
The numbers do not include greenhouse gas emissions generated from the 176 million kWh purchased from Duke Energy in 2019. It also doesn't include any of the emissions that qualify as Scope 2 or 3, categories Purdue — unlike Ball State and other universities — does not openly report.
Information about current energy use, including electricity and natural gas usage, was accessed only after The Exponent filed a Freedom of Information Act request.
Scope 1 greenhouse gas emissions have been trending downward since 2010 as Purdue has shifted away from coal and toward natural gas, according to the university document. Other energy-efficiency efforts taken across campus, such as retrofitting buildings and increasing the number of LED lighting on campus, have also helped.
Gulich said Purdue has already made much progress toward its 50% emissions reduction goal since the 2011 baseline year thanks to these efforts.
Purdue's Sustainability Strategic Plan from 2010 states a long-term goal is to "provide energy use statistics online that clearly communicate the campus's energy use breakdown, seasonal use and greenhouse gas emissions."
According to Purdue spokesperson Rebecca Terry, more information was to be available with the release of the new Master Sustainability Plan on Earth Day 2020. She said that as Physical Facilities redesigns its website, information about campus energy use and greenhouse gases will become accessible online.
The information was not available on the website as of Sunday night.
Nies said more transparency is necessary so readers can understand the scope of the goals.
"They need to release the data," he said. "Where were they in 2011? How are they calculating carbon emissions and what are the units they are reporting?"
Ball State's ambitious goal
In 2006, the university was one of the first 12 to sign the President's Climate Leadership Commitment, an agreement among university presidents to take bolder action on climate change.
At that time, Ball State created a greenhouse-gas inventory, developing a comprehensive assessment of the emissions produced by the university's combustion of fossil fuels, electricity bought from the grid, transportation of students and staff, and food and waste supply chains.
From there, the university developed a nine-step climate action plan that committed it to carbon neutrality by 2050, a goal that was bumped to 2030 in 2016. A major step was switching the campus from a coal combustion steam plant to ground-source geothermal technology for heating and cooling.
"We were in the market to replace four coal-fired boilers on campus," Koester said.
Rather than replace the boilers or upgrade them to natural gas — another fossil fuel — Ball State decided to pursue a renewable technology.
Despite the higher upfront cost, the university was able to secure enough money from a variety of sources and is now reaping more than $2 million a year in cost savings. The move cut emissions by roughly 50%, Koester said.
"We were able to get it all done and we now are operating solely on that system (as of) March 2014," Koester said. "We stopped burning coal. Once that happened, we stopped emitting 86,000 metric tons of nasty CO2 into the atmosphere."
Carbon offsets, innovative funding
Ball State worked with Chevrolet to develop a carbon credit-purchasing program, in which the company would pay the university to reduce its institutional greenhouse gas emissions.
"We developed a methodology (by which) schools can verify the true value of their carbon emissions reductions and then transact those reductions in the voluntary carbon market," Koester said.
This enables universities to access additional capital — "carbon capital," as Koester called it — and increases the amount of money available for sustainability projects. Chevrolet purchased carbon credits generated by Ball State's emission-reduction efforts, enabling the university to invest even more in those efforts.
"We're the first school in the country to engage in it," Koester said. "We piloted the whole way of going about this."
While the emission reductions are attributed to Chevrolet, when the contract ends, the annual emissions savings will be applied to the university, allowing it to achieve true carbon neutrality.
"Industry incentivized academics to go carbon neutral," said Daniel Poynter, director of Carbon Neutral Indiana, a nonprofit seeking to increase the availability of Indiana-specific carbon offsets.
Being a leader on climate action has had many benefits for Ball State, Koester said, such as the generation of cost savings and clout.
"We've gotten a lot of recognition on the international stage. We have been able to market this," Koester said. "There are studies out there that say that 60% of incoming freshmen make their decision about attending a university based on its commitment to the climate. It's worth doing it for those reasons."
Where Ball State has innovated, Poynter said many other universities have faltered.
"We think of (universities) as innovative, but the innovation's coming from corporate America," Poynter said. "From Facebook and Google and others, not from — I hate to say it — Purdue."
IU pursues long-term goal
In April, IU's faculty council called on the university to become carbon neutral by 2030 and to create a climate-action plan by 2023.
For now, the university is working toward its long-term goal of 80% emissions reduction by 2050. A major focus of this effort is to reduce IU's dependence on electricity from the grid, sustainability director Andrew Predmore said.
Energy purchased from the grid is produced from different sources, most of which rely on the combustion of fossil fuels. Predmore said by decreasing dependence on the grid, IU would be able to decrease its carbon emissions.
To achieve this, IU has pledged to build all new, major construction to gold-LEED certification standards. In Purdue's master plan, all new projects over $10 million have to be silver-LEED certified.
Predmore said IU is also taking a serious look at the construction of on-campus solar power.
"The price of solar has dropped so much that the payback is in that 20- to 25-year range and that's beginning to be something that we are interested in," he said.
IU is investigating whether it should transition its power plant, which currently provides heating and cooling to campus, to a combined heat-and-power plant similar to Purdue's. In this scenario, the plant would heat and cool buildings while generating electricity that can be used on campus, resulting in a net decrease in carbon emissions.
Predmore said while reducing emissions on campus is important, IU can have an impact on emissions outside of the university as well.
"It's important to do what you can do at the (university)," Predmore said. "But it is also important to fulfill the mission of the university, which is training students for leadership in this space and helping support our communities, from an engagement and service as well as a research standpoint."
For IU, this means training students to be able to conduct greenhouse gas inventories and draft climate-action plans as part of its Resilience Cohort program.
Through a summer internship, these students engage with communities across Indiana to conduct citywide greenhouse gas inventories and area-specific plans. West Lafayette is participating in IU's Resilience Cohort this year as it works to develop a climate-action plan for the city.
"Creating a plan to reduce our greenhouse gas emissions while addressing how we adapt to the climate changes already occurring is truly in the spirit of the climate resolution our city council passed last year," West Lafayette Mayor John Dennis said in a press release.
Merkel said it was disappointing that Purdue didn't offer the city a similar service.
"For one of the biggest issues this community is worried about, West Lafayette has to reach out to a rival school a hundred miles away for help," he said.
Other Big Ten schools, such as Ohio State and Rutgers, have joined the University Climate Change Coalition, a coalition of leading research universities working to accelerate climate action.
By becoming part of the coalition, Purdue would pledge to reduce its carbon footprint to be consistent with the Paris Climate Accord.
Joining would enable Purdue to access a framework for climate action as well as an exchange of best practices and university-specific solutions, said Alexander Maxwell, a spokesperson for Second Nature, the organization that oversees the coalition.
"We believe in the power of higher education as an important subnational actor to accelerate and mobilize climate action," Maxwell said.
Source: The Exponent