How Cincinnati colleges and universities are planning the future of higher education amid the Covid-19 environment
How Cincinnati colleges and universities are planning the future of higher education amid the Covid-19 environment
Universities in the Cincinnati area are excited to see their students return to campus, even at a much lower density (about 25% in person). Smiling faces are now covered by masks and students are socializing in "pods," or groups of 10 or less, but there is energy and a sense of togetherness that has been absent the past six months.
While the higher education industry is still speculating on the full implications of the events of 2020, we know the impact has been and will continue to be significant. Educators agree change should be embraced; there is no going back. Institutions have long been aware of trends that are changing how students learn. They believe the pandemic accelerated the inevitable.
As we continue to navigate the Covid-19 environment, educational institutions expect the following trends to stay:
Flexibility and agility will become a standard for future programs, both in operations and in education. Students need to be educated to lead in a world of constant, rapid change to prepare for their future.
The hybrid education model is becoming widely accepted and is considered more effective than in-person or online formats alone. In-sync online courses, which include interaction between the professor and peers, create an effective learning environment.
For faculty and staff, some form of telecommuting is expected to continue.
Collaborative efforts will focus on providing equal access to continuing education and ensuring all students have the tools and technology needed to succeed.
Connections between corporations and the education community will enhance learning and provide better opportunities upon graduation. Organizations, like the Greater Cincinnati Collegiate Connection (GC3), allow institutions to combine resources to effect change.
Health and wellness will be prioritized, as Ashish Vaidya, president of Northern Kentucky University, acknowledged in the Cincinnati Business Courier Future of Education Panel held on Sept. 17, 2020: "Empathy and wellness are major contributors toward students' success, and they will be important to a post-Covid-19 world."
Creating healthier and more productive learning environments
Historically, universities have understood the importance of health and sustainability and have taken a leadership role in effecting change. Almost 700 university and college presidents have signed the American College and University Presidents' Climate Commitment (Carbon Commitment) since 2006, with the goal of reducing greenhouse gas emissions by 2030. In Cincinnati, it includes the University of Cincinnati, Northern Kentucky University and Xavier University.
Generally, the institutions that had resiliency plans in place before the pandemic were able to adapt faster and had better results with student productivity. Most universities are already looking beyond the short-term adjustments and are evolving their master plans to better meet the needs of tomorrow.
Features and strategies they are incorporating into their plans to create healthier facilities include:
Lower student density spaces supported by hybrid learning.
Touchless sensors for lighting and fixtures.
Antimicrobial finishes.
Simulations with energy modeling.
Better utilization of outdoor spaces as learning environments and gathering spaces.
Natural lighting.
Improved indoor air quality achieved through HVAC modifications that regulate humidity, incorporate UV lights and upgrade filters.
The infographic below was taken from Pepper's white paper on the factors that affect indoor air quality and how different systems perform.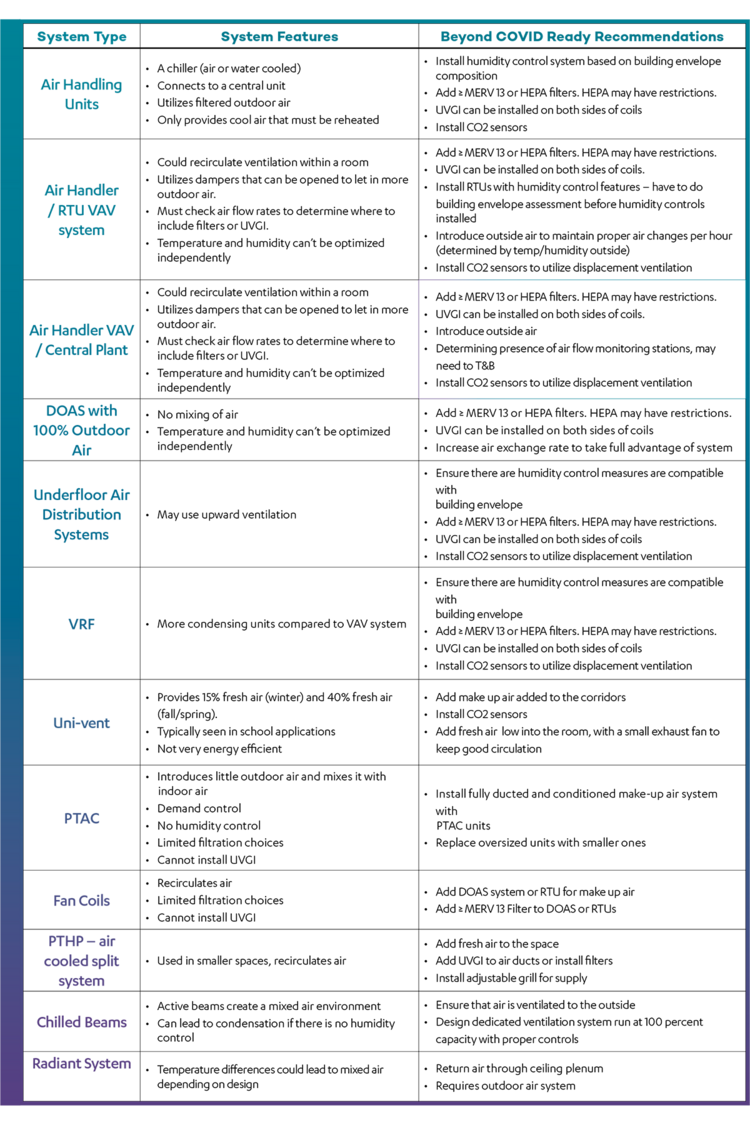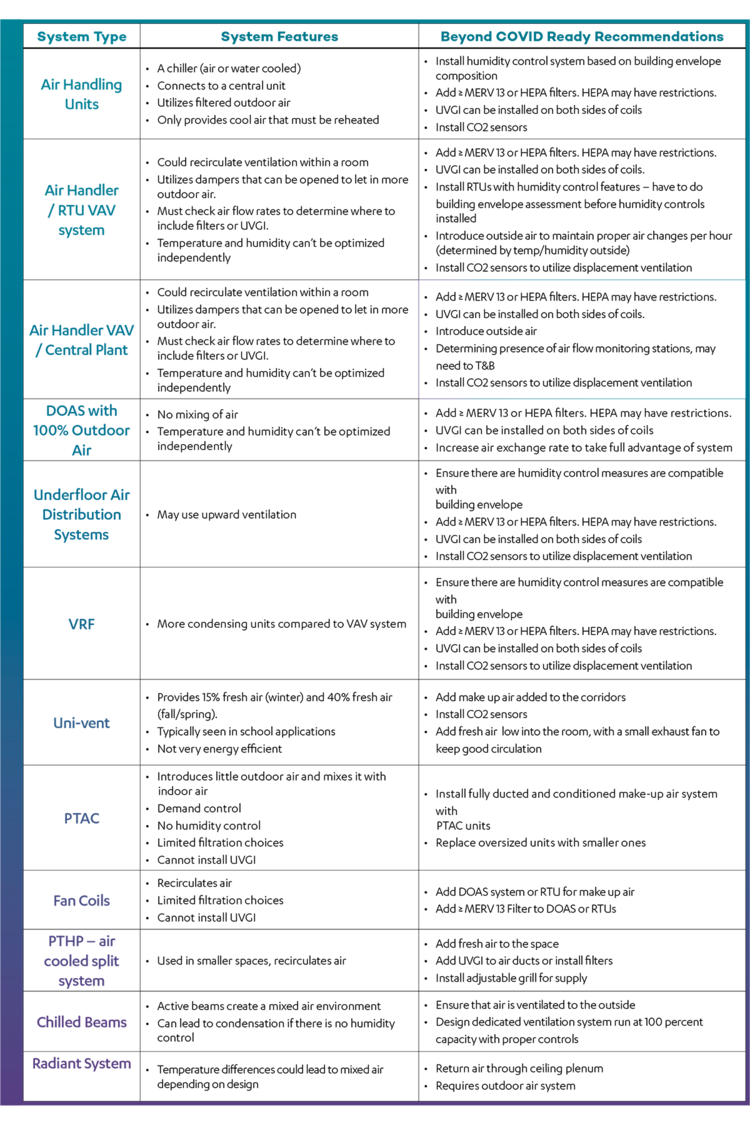 Many colleges and universities follow LEED standards for their capital projects. Certifications like WELL have also grown in popularity through the pandemic because they address the health of occupants in addition to the health of the building.
Health is a shared responsibility
The pandemic is a reminder of how connected we are to each other and to our environment. The measures we take to improve our health and well-being can also make a difference on the future of our world. The built environment impacts our health – and the effects are far reaching and long-lasting. High performing buildings save money, reduce CO2 emissions and have proven to increase the health and productivity of their occupants. This makes every project a call to action and an opportunity to leave a legacy that lasts longer than a lifetime.
Pepper Construction serves clients across the country with offices in Ohio, Illinois, Indiana and Wisconsin. Market expertise includes workplace and education, healthcare, manufacturing and light industrial, among others. As a top Midwest commercial contractor, the company leads the industry in virtual technologies, sustainability and lean strategies.
As vice president, Jerry Noble leads Pepper Construction's Cincinnati operations, leading teams in achieving project objectives and ensuring overall client satisfaction. A graduate of the University of Cincinnati who enjoys giving back to his local community, Jerry currently volunteers with several area organizations including the Cincinnati Reds Community Fund and the Little Miami Conservancy.
Source: Cincinnati Business Courier