Higher Education Leads the Way for Climate Change Action
Advice & News  |  by Cobretti D. Williams
Friday, October 11, 2019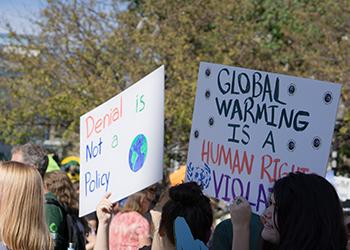 Francis W Naung/Shutterstock
The urgency of the global climate has become front and center in recent news. Pressure of rising ocean levels and burning ecosystems are causing citizens around the world to confront the issue of climate change head on. After the recent UN Climate Summit, politicians are assessing how they will circumvent the worsening conditions. Higher education as an industry is not exempt from these conversations. To date, over 600 college presidents and institutions have committed to making climate change a priority in operations, education, and research. However, the multiplicity of competing demands, resources, and varying commitment of institution stakeholders present both opportunities and challenges higher education must address. In conversation with Timothy Carter, president of Second Nature — a non-profit organization committed to accelerating climate action in and through higher education — I explore the role colleges and universities play in environmental sustainability and the changing climate.
Historically, conversations on climate change in higher education were sparse, firmly nested within environmental studies programs and debates over institutional investment in the fossil fuel industry. Then, in 2006, the American College and University Presidents' Climate Commitment (ACUPCC) was created and 12 university presidents agreed to commit to carbon neutrality, conduct an inventory of greenhouse gas emissions, and create a climate change action. Now, colleges and universities are some of the biggest institutions to positively influence U.S. environmental efforts.
According to Carter, "Higher education often serves as an early adopter for practices that have broader social impact — this is implicit in the non-profit status held by many of these institutions. For environmental sustainability, campuses have created some of the most ambitious climate action plans in the country, set aggressive targets that exceed the goals of the Paris agreement, and a handful have achieved carbon neutrality status." Though the urgency of climate change makes it appear that policy efforts were late, still, higher education has become a leading industry in environmental sustainability, and as more institutions commit to the cause, that impact will increase.
Beyond the contributions of the institution as a whole, the success of higher education is by and large a result of its stakeholders, particularly college students that have become climate activists on campus. When asked about the role of students in these conversations, Carter simply said it was "huge." He then went on to say that "the primary 'clients' in higher education are students. Presidents especially respond to them and many of the largest movements, from decarbonization efforts to divestment campaigns have been driven by students. The student-led efforts are even more effective when integrated across the broader set of campus stakeholders."
In some cases, students are able to forge relationships with other stakeholders to widen the scope of climate issues. At Tufts University, faculty and students built a collaborative, interdisciplinary program on climate issues that has existed since 1998. At minimum, students have been successful in pushing the issue, with a fervent commitment to climate justice that influences their college choice decisions and inevitably, the purported values of higher education. Obviously, college presidents and institutional leaders have become more receptive to climate action, and in an environment where resources are scarce for government and community organizations, the human capacity and resources of higher education provide a model for other institutions in society to follow.
Despite the contributions of higher education, there is still room and opportunity for many colleges and universities to enter the conversation and act on climate change. As Carter emphasized, "We think that the urgency to get to a 50% decarbonized economy in 10 years means that individual institutions acting in isolation is not sufficient for the changes needed. We need scaled actions that include multiple institutions working together on shared climate solution projects that can quickly scale." He added, "This may be shared infrastructure investment such as large-scale renewable energy purchases that involve more than one institution, as well as cross-sector activities such as advocating together for state-level climate policies that allow for goals to be met. Scale is critical if we are to accelerate progress. We can only do that by working efficiently and effectively together."
Thus far, we have seen networks and coalitions of university leadership come together, including the University Climate Change Coalition; however, only 18 institutions have pledged their commitment. Furthermore, to reify Carter's point, institutions do not necessarily have to act in isolation. In fact, many of the recommendations and best practices offered by Second Nature were achieved through shared governance, resource allocation, and capacity-building between constituencies and local governments. Intentionality and collaboration are what make environmental sustainability possible and are essential to building a momentum that benefits our campuses and society.
In David Orr's book "Earth in Mind," he asserts, "The kind of education we need begins with the recognition that the crisis of global ecology is first and foremost a crisis of values, ideas, perspectives, and knowledge, which makes it a crisis of education, not one in education." The importance of this issue rests not only in the urgency of our restorative actions, but the mission and values maintained by colleges and universities around the country. Higher education not only possesses the necessary resources to propel environmental sustainability forward, but part of these resources includes scientists, activists, policymakers, and leaders who can make the potential of climate justice a future possibility. Moving forward, we will need all of these resources and more to change hearts and minds about the vitality and sustainability of the world we live in.
Source: HigherEd Jobs